It's Jeffrey Dean Morgan's birthday—and his wife Hilarie Burton wins the award for sweetest tribute. 
On Wednesday, the Walking Dead star rang in his 54th birthday and his longtime partner took to social media to honor him one his special day. 
"It is my husband's birthday," she began. "There's a whole heap of people out there who love @jeffreydeanmorgan. He's a person who is electric, dynamic. He laughs hard and can curse a blue streak, and has a heart bigger than most. He takes on responsibility and fights for others, and works hard. And then he comes home and doesn't rest…he's the pony that our kids hop on. He's the cuddler of donkeys. He's the dreamer who pulls a log out of the woods and makes a table or art or mountains of firewood."
"But to me," she continued, "he is the only person who's opinion matters. I met him when I was 26, and he saw me for who I wanted to be. And then he kicked down every obstacle to get us here. Happy Birthday, Jeffrey. You make everything better."
Along with the touching caption, Burton also shared photos of the actor, including adorable snaps of him with their two children. 
While they only recently became husband and wife, their love story has spanned 10 years. 
"We've lived as husband and wife for a decade. We've built a family, and a farm and found our community. For years, publications have reported that we got married in 2014 or 2015 and that I've been married and divorced before. All untrue. But WE knew our truth. So it felt silly to try and correct anything," the actress wrote on Instagram in October 2019. "Here's the God's honest fact: From the moment I met @jeffreydeanmorgan, he was my husband. Rather than make vows right out of the gate, we lived them. For over ten years. The good times and the bad."
Keep scrolling to relive their happiest moments and revisit their romance:
Jason Merritt/Getty Images
Honeymoon Stage
So how did Jeffrey and Hilarie first cross paths? It all started in 2009 thanks to the actor's Supernatural co-star Jensen Ackles, who organized a blind double date for Jeffrey, Hilarie, himself and wife Danneel Ackles. 
"I [got lit]. We all did. We ended up back at my house drinking shots of tequila," Morgan recalled during a 2015 interview with the Huffington Post. Jeffrey and Hilarie would make their red carpet debut as a couple in 2010.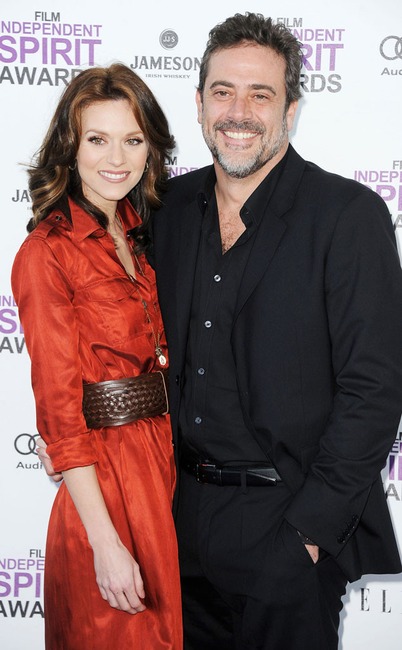 Frazer Harrison/Getty Images
Oh, Baby!
The lovebirds shocked Hollywood when in 2010 it was revealed that the One Tree Hill actress had given birth to a baby boy named Augustus. A source told E! News at the time, "She told friends about her pregnancy back in August [2009] after she had spent a lot of time with Jeffrey on location in New Mexico."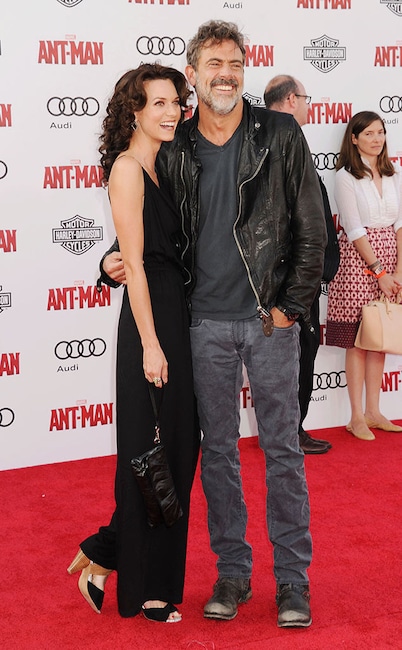 Jeffrey Mayer/WireImage
The Joys of Parenthood
At the 2011 premiere of Breaking Dawn: Part 1, the new parents gave a rare interview to E! News about their bundle of joy. "He just said 'no' for the first time, which is f–ked up," Morgan teased. "In one week it's just like, 'No, no, no!'"
"But everything is a first," he gushed. "It's been spectacular… a lot of not sleeping, and then our one adult night we come here. This is our date. Can you believe it?"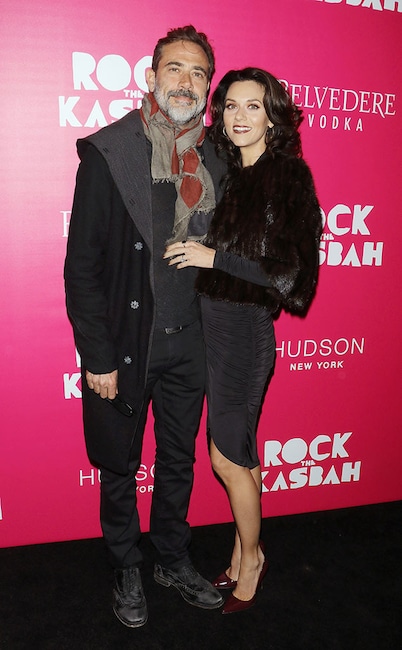 Jim Spellman/WireImage
Husband and Wife?
Starting in 2014, the celebs began covertly referring to each other as "husband" and "wife." Despite reports of an undercover wedding, The Walking Dead star denied his leading lady had in fact walked down the aisle to become Mrs. Jeffrey Dean Morgan.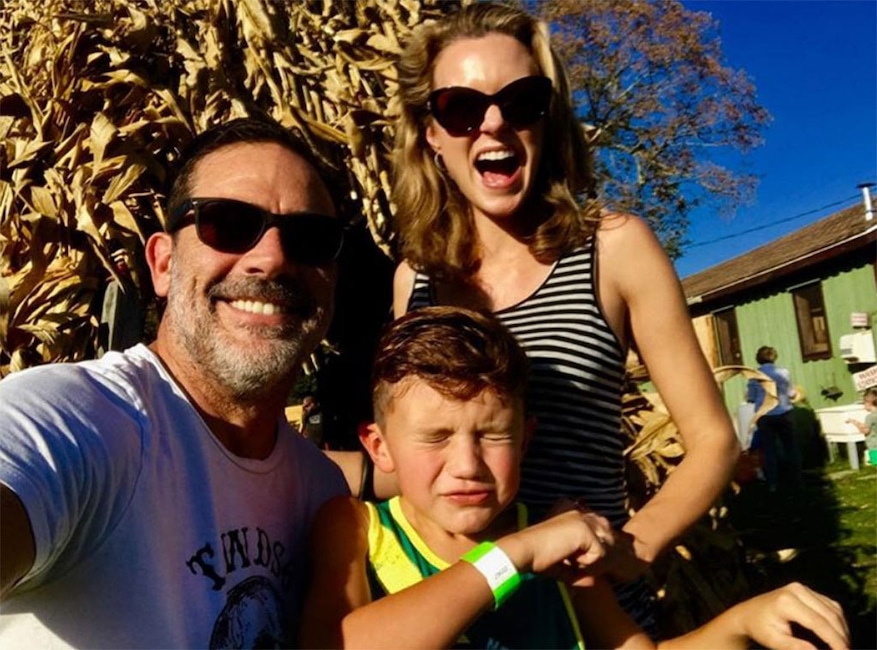 Instagram
A Simple Life
Morgan and Burton left the hustle and bustle of Hollywood for a more quaint lifestyle in the town of Rhinebeck in Dutchess County, New York. There they live on working farm, and as Hilarie explained to Entertainment Weekly in 2014, she spends most days in a "Carhartt flannel and covered in paint and sawdust and muck boots." 
Fernando Leon/Getty Images
From Couple to Co-Stars
The stars aligned in 2015 when Burton was cast on Morgan's CBS series Extant. He told Zap2It of the coincidental co-starring, "When I took the job the deal was, 'We'll get you home as much as possible,' and that just hasn't worked out. But Hilarie got a job on Extant, which was fantastic. You'll see her a couple of times throughout the season, so that's one way we've been able to keep the family sort of together."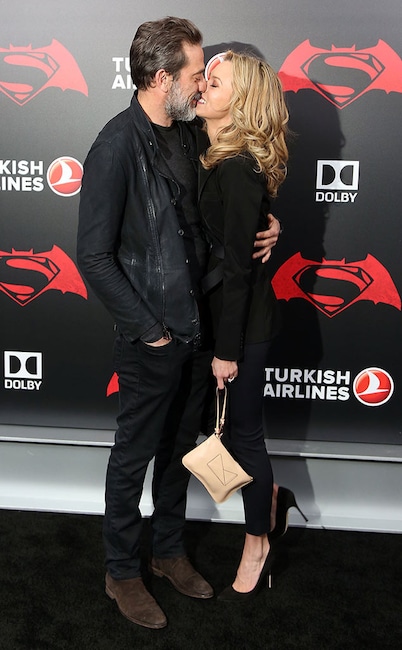 Taylor Hill/FilmMagic
Mwah!
Pictured here at the 2016 premiere of Batman v. Superman: Dawn of Justice, Burton plants a sweet smooch on her handsome date for the evening. 
Taylor Hill/Getty Images
Sweet Tooth
A little-known fact about Jeffrey and Hilarie, they co-own a candy store with Paul Rudd and his wife! 
Samuel's Sweet Shop is located in their hometown, and as the actor told HuffPost, "A friend of ours, who owned it for 20-plus years passed away tragically… We own a candy store in upstate New York and we have great coffee and great chocolates."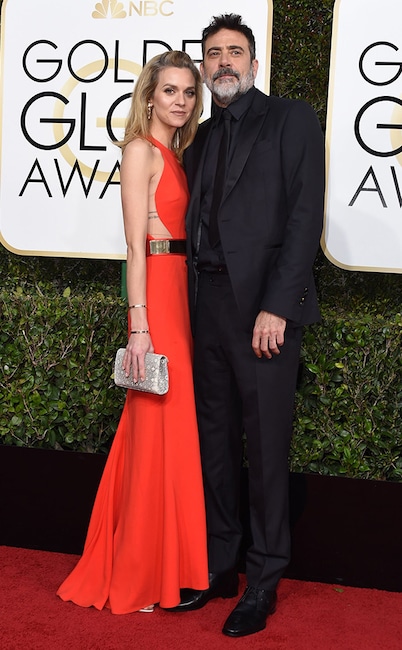 VALERIE MACON/AFP/Getty Images
Date Night Done Right
The oh-so private pair stepped out at the 2017 Golden Globes oozing Hollywood glam. Discussing his villainous Walking Dead character with ET, Burton shared, "It's made him good cop at home. He gets all his bad cop stuff out of the way at work and then he comes home and he's happy dad."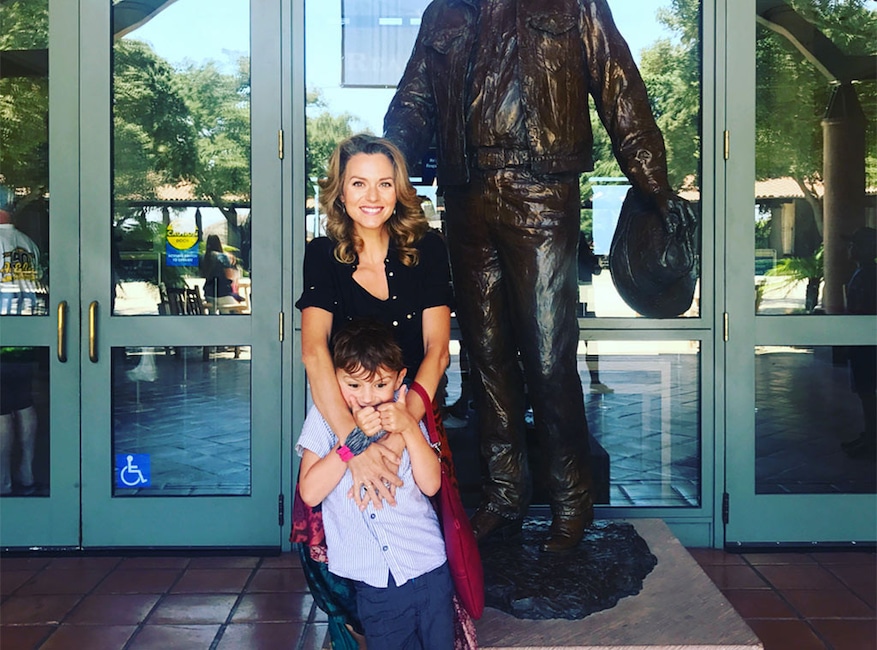 Instagram
Birthday Boy
When Gus turned 7, his proud mama wrote on Instagram, "Gus is a Titanic freak, so went to Reagan Presidential Library for the Titanic exhibit. Such a great day. Birthday adventures with my boy!"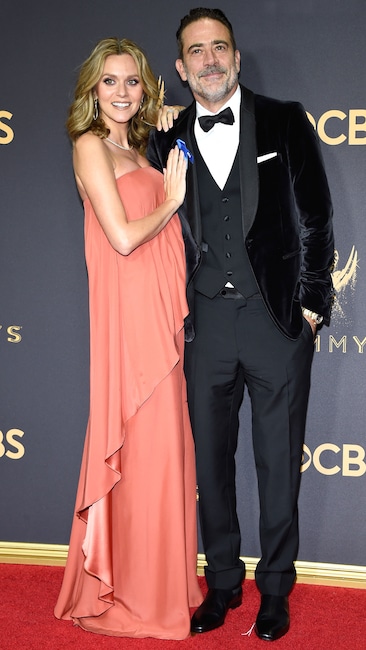 Kevin Mazur/WireImage
Baby No. 2
At the 2017 Emmy Awards, Morgan hardcore hinted that a second bun was in Hilarie's oven. They ultimately confirmed that their family was growing, and Morgan let it slip that they're expecting a little girl!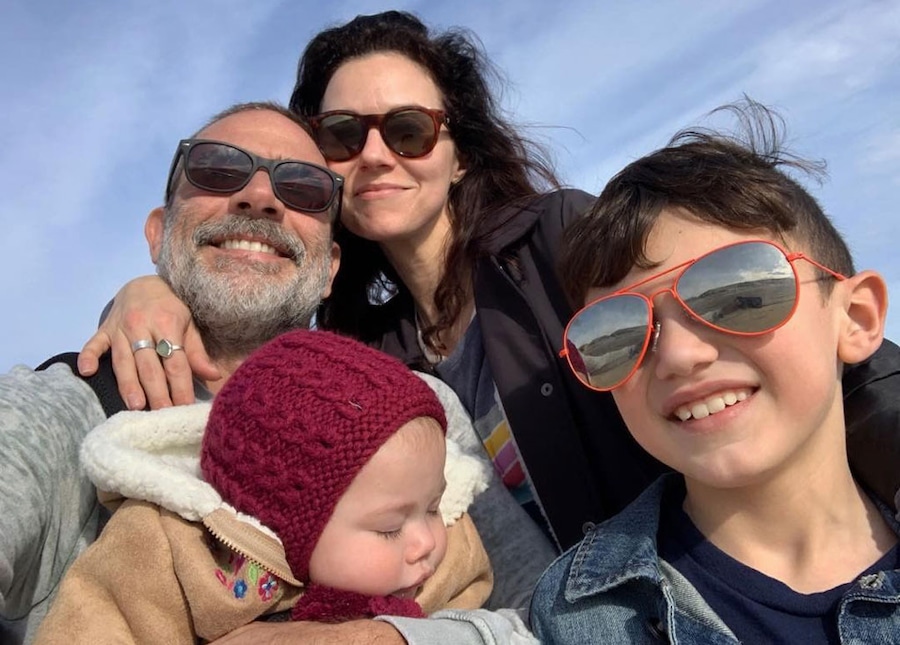 Instagram
Meet George!
In March 2018, Morgan confirmed that their baby girl had arrived. "Hey y'all… baby gal morgan is spectacular," the actor tweeted. "We just respecting her wishes for laying low a bit longer. But we super appreciate all the well wishes n stuff. Thank you. Xojdhilgusandbabygal."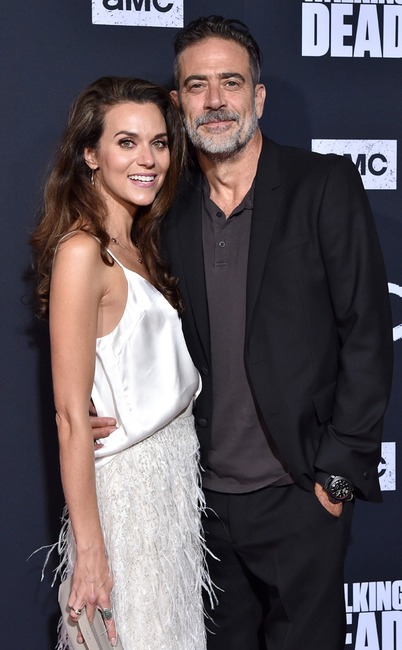 Axelle/Bauer-Griffin/FilmMagic
Just Married
"I just want to put it out there that WE GOT MARRIED! For real," Burton announced on Instagram in Oct. 2019. "We've lived as husband and wife for a decade. We've built a family, and a farm and found our community. For years, publications have reported that we got married in 2014 or 2015 and that I've been married and divorced before. All untrue. But WE knew our truth. So it felt silly to try and correct anything."